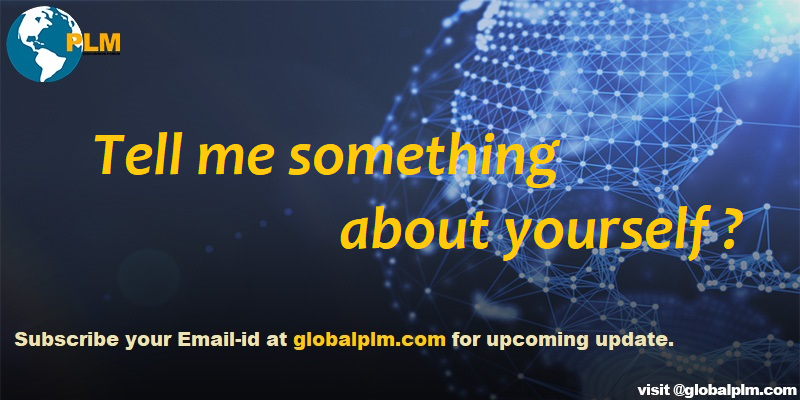 Hello Friends,
In this competitive world, if we want to survive and grow, we have to continue working on our personal development. Keeping this intent in the forefront I am coming up with this series of videos to cover a few aspects like campus placements, interview tips & tricks and few travel vlogs.
I would like to convey my thanks to Global-PLM Team for letting me post here. So, first in series is the most frequently asked question – "Tell me something about yourself?"
Before we answer this question, we should know what the intent of the interviewer is:
To ease you out of interview nervousness

To set direction for the entire interview

To evaluate your soft skills

To get to know you professionally and job aligned skill sets
We have to also consider what not to be answered?
Resume Rehash – Avoid reiterating what already written on resume.

Clueless Mumbling – Avoid mumbling or talking very slow.

Badmouthing – Avoid complaining about the current organization and current employer.

Start with negatives – Never start or even get into negative vibes by starting with negative thoughts or views about anything stay focused on the positive outlook.

First Date Approach – This is not a date hence avoid talking hobbies or likes dislikes etc.. keep it as professional as possible
I have also listed down few Tips, Do's & Don'ts :
Situation

 
In-General
Technical Interview
HR Interview
Leadership Interview / Talk

Must Tell

Give a Short Personal Description About Yourself

Latest Education / Job / Role

Give a Short Personal Description About Yourself

Talk about your skills and work experience

Give a Short Personal Description About Yourself

Talk About Your Achievements So Far

Give a Short Personal Description About Yourself

Talk about your work experience and skills

Be ready with

Highlight of Achievements
Examples where you used those skills
Talk About The Biggest Challenges You Faced and Overcame
Sell Your Skills Relevant For The Job
For detailed guidance on this topic please refer my channel

(

Confessions of Prakhar Mittal

)

We will more post  Interview Tips Tech HR in upcoming days.

Kindly provide your valuable comment on the below Comment section and  We will try to provide the best workaround.

For more Awesome HR Interview Tips and Trick, Please subscribe to the YouTube channel(Confessions of Prakhar Mittal) for helping me to make more relevant content.

Kindly subscribe your Email-Id at (http://globalplm.com/) and drop any suggestions/queries to (globalplm2@gmail.com).