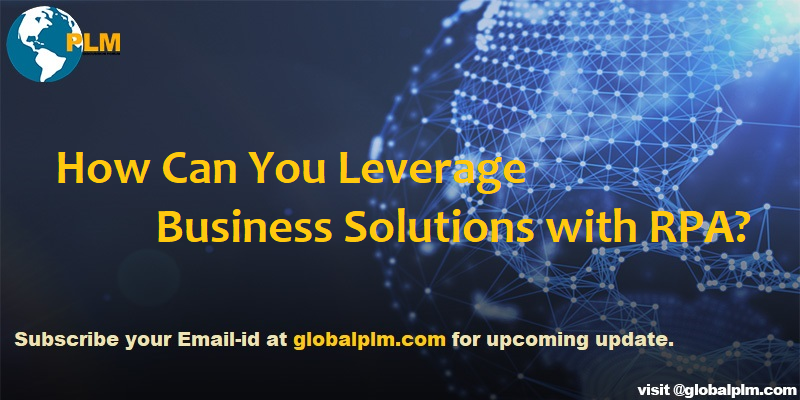 How Can You Leverage Business Solutions with RPA?
As a business owner, you will need techniques and methods in order to keep your company viable while also ensuring that it maintains its competitive edge. With the economy at an all-time low, it seems to be a horrible decision to become a company owner or entrepreneur at this point in time. However, prospective entrepreneurs should not be disheartened. Even in difficult economic times, there have been many enterprises that have risen to the occasion and prospered, going on to become some of the world's most successful corporations in the process. To attain a comparable level of success, you must plan ahead of time and apply techniques and tools that will give you an edge over your immediate competition. And it is at this point that solution providers come into play.
Organization solutions are methods, techniques, or tools that you may use to assist you in the running of your business while also gaining an advantage over your competitors. These cover a wide range of topics. There are several service providers from which one may choose; it is up to the company owner to choose which solution is most appropriate for their needs.
With Robotic Process Automation, get first thing first
Robotic Process Automation (RPA) is one of the speediest automation technologies in the world. RPA is used to automate repetitive tasks. Broadly defined, robotic process automation (RPA) is a software robot that processes monotonous and repetitive activities, hence lowering processing time, minimizing human mistakes, and enhancing production.
Moreover, robotic process automation services free up workers' time, allowing them to focus on more complicated and critical duties such as improving creativity, discovering new methods to enhance efficiency, developing stronger problem-solving abilities, and offering a better customer experience.
Creating innovative digital enterprises from RPA

Companies such as energy providers, telecommunications providers, insurance companies, and banks must digitize in order to remain competitive against firms that are fully digital-native and have just recently entered the market. When it comes to digitization, it is often more effective to concentrate on developing a whole new digital company branch that is extremely automated rather than attempting to digitize the present corporate structure.

A digital company that is built from the ground up on technology in both its development and the way it provides goods and services is what it takes to start a new digital business.

As a result of this business strategy, customer experience is improved as a result of the user-friendliness and accessibility of the digital company, which allows consumers to obtain services that are simpler, cheaper, quicker, and more seamless.

Occasionally, the firm is restructured to include a new core, which is represented by the new digital business.

Consider some of the reasons why robotic process automation (RPA) may serve as the foundation for front-end business digital transformation:
·Development
The ready-made automation technology provided by RPA is completely flexible. With no need for coding, it is simple to create and configure runtime environments as well as ERP and system elements without any need to tear down or even reorganize current platforms which are critical to business operations. This allows for deployment to take place in a relatively short period of time, saving time and money. In reality, the only true requirement is familiarity with contact center procedures and processes. Consequently, RPA helps corporate contact centers to manage their operations while decreasing their reliance on the information technology department as a consequence of this.
· RPA Reduces Security Risks
Businesses may reap a variety of advantages from robotic process automation (RPA). It is possible to speed up lines of operations with their assistance, resulting in considerable cost savings: a company that employs them can adapt more swiftly to market mechanisms and, in general, becomes really successful. The majority of enterprises prefer to utilize software robots with such advantages in mind, which also results in dynamic growth in the number of robots in use. The deployment of RPAs, as a result, not only improves the efficiency of business operations and supervision, but also lowers the risks that businesses face.
·Gives Cost-cutting measures
By automating routine processes, it is possible to save roughly 40% on operating expenses. A Full-time salaried person is costlier than a software robot. By automating essential IT activities, robotic process automation (RPA) has the potential to save operating costs. It may save money by eliminating the need to engage new professionals who are specialized in a certain field.
·Improve marketing tools
Determining when and where to promote a specific product or service is critical to running a successful company. There are several methods for marketing a business brand, such as mail campaigns, digital advertising, website design, and social networking. RPA will assist a firm in need of a boost in its marketing efforts by analyzing massive amounts of data and enhancing the organization's marketing campaigns.
---
Author:

Rosalind Desai
Author Biography
Rosalind Desai is a passionate Guest blogger and Tech content curator. She loves to write on trending topics of technology like artificial intelligence, robotic process automation, Business automation and Data intelligence.
Social Profiles
LinkedIn: https://www.linkedin.com/in/rosalind-desai-218070224/
---
Four Easy Steps to Get Subscribed
Step1:-Enter your Email address and Hit SUBSCRIBE Button.
Step2:-Please check inbox and open the email with the subject line"Confirm your subscription for Global PLM".
Step3:-Please click "Confirm Follow" and you got the email with the subject" Confirmed subscription to posts on Global PLM".
Step4:-Voila, You are subscribed. Happy Learning
---
We will more post on Technology in the upcoming days.
Kindly provide your valuable comment on the below Comment section and We will try to provide the best workaround.
Kindly subscribe to your Email-Id at (https://globalplm.com/) and drop any suggestions/queries to (globalplm2@gmail.com).