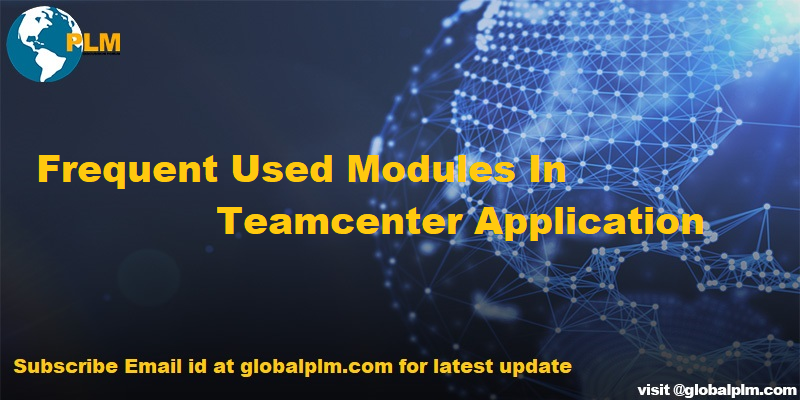 After launching Teamcenter application, you can find several menus as well as some tabs, which itself individual models present into the software.
Below is the list of modules that you can find in the bottom left corner.
Frequent Used Teamcenter Application in Industry:
1. My Teamcenter
2. Lifecycle Visualization Embedded Viewer
3. Structure Manager
4. Workflow Viewer
5. Change Manager
6. Organization
7. Access Manager and more.

1. My Teamcenter is the Siemens application that we use to process information. The main access point of all used function, Item, Object, and Check-in/Check-out and query execution. All standard functionalities are available in My Teamcenter.

2. Lifecycle Visualization application is used to view the design data and review the product structure in light-weight mode.

3. Structure manager is used to building, view, and change product structures. Structure Manager also able to produce structures that created in a CAD application like NX, CATIA, etc. Structure Manager also maintains the Bill of Material (BOM).

4. Workflow Viewer is the user interface where the user can trace the flow of the workflow process.

5. Change Manager is a tool through which user can push requests to initiate, administer, analysis, approve, and execute product changes. By automating the change process, change Manager can lessen change-related rework and parallel tasks accomplished by modifying, enhancing and upgrading the product.

6. Organization application allows the user to build and maintain the company's association within Teamcenter by organizing user accounts and their respective permissions and user groups, roles, volume, etc.

7. Access Manager enables you to control user access to data objects stored in Teamcenter.

• Defining rules.
• Defining access control lists (ACLs).
We will more post on PLM TUTORIAL–>Basic Teamcenter Article in upcoming days.
Kindly provide your valuable comment on the below Comment section and  Our Team will try to provide the best workaround.
Kindly subscribe to your Email-Id at (https://globalplm.com/) and drop any suggestions/queries to (globalplm2@gmail.com).