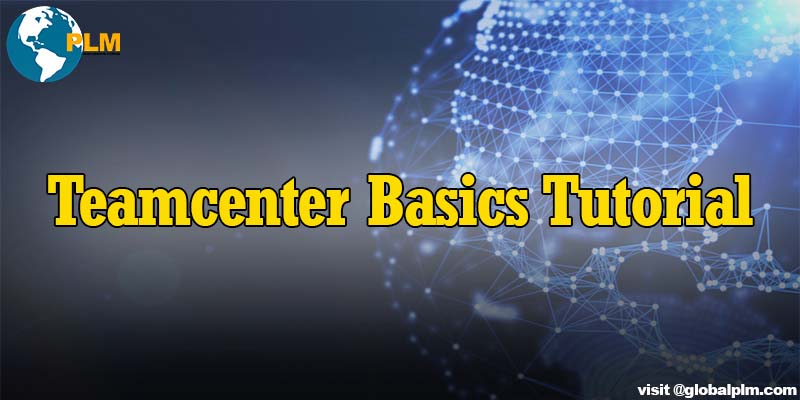 It is a product lifecycle management (PLM) computer software, originally created by UGS Corporation, a company which later became the famous Siemens Corporation.
Item:
Item is a folder that contains all necessary information required to manufacture that product.
Dataset:
Datasets are entities which manage the data files created by non-Teamcenter Unified applications such as
text files(.txt)

word document(.docx)

Cad data(.catpart, .catproduct)

Vis(JT files)

Pdf file(pdf)
Item Revision Master Form:
All the CAD attributes related to Parts/Assembly like Material, Heat Treatment, Volume, Thickness etc. are entered into the Item revision master form.
Folder:
In Teamcenter, a unified user is capable of performing below mentioned activities.
User can View Default Group, Role and Site.

User able to Change their Login Password.

Create Item and dataset and also release the Item as per predefined workflow template.

Folders and Sub-Folders can be created to run the data.

In Home folder User can organize their data as per our need.

User can search Teamcenter Objects by using Search option.

Able to search Teamcenter Objects by using Pre-defined Search Queries based on Name, Item ID etc.

User can also customize the Quick Links as per requirements.

All Open items can be viewed in the Open Items section in the Application Pane.

History Section is also available in the Application Pane.

User can add item to the Favorites section in the Application Pane.

User can Customize your action in the I want to… section in the Application Pane.

Easier to get the Properties and Details of the Teamcenter Objects.

Datasets like JT and forms like item revision master form, RM form can be viewed in Viewer.

Bill Of Materials can be viewed in Structure Manager and the BOM can be exported locally as .html, MSWord, MSExcel etc..

CAD data like CATPart, .prt files can be managed.

Analyses like Where used, where reference can be performed in Teamcenter Unified.
---
TEAMCENTER INTERFACES
---
RICH CLIENT:
The rich client interface is mostly used by authors, manufacturing authors, administrators to:
Manage the design and configuration of product data.

Construct and Preserve TC processes and structures.

Design and Preserve TC.(TC–>Teamcenter)

Access data stored in the Teamcenter database.
It simple words, it is Full application with large sets of configuration. Its available on Two-tier and Four-Tier as well.
THIN CLIENT:
The thin client interface is used by consumers, manufacturing consumers and reviewers to:
Look data, including product structure and variant information in Web-based.

Approve data attached to a workflow task.

Visualize 2D drawings and 3D model.
It is a browser based application (URL based) with Lighter configuration. Its only applicable to Four-tier.
The thin client interface is ideal for suppliers, production staff, and other users who do not require extensive authoring or administrative access to Teamcenter.
---
CHANGING THE TEAMCENTER PASSWORD
---
Change your password:
Choose Edit→User Setting.

Click the Login tab.

Click the Change Password button.

Type the old password, the new password, and confirm the new password.

Click OK.
Set the default role within a group:
Choose Edit→User Setting.

Click the Login tab.

Select a group from the Default Role table and choose a role from the list.

Click Apply.
Teamcenter saves the default role settings and applies them when you log on to a new session.
---
BASIC TEAMCENTER TIPS
---
You can repeat this step to specify a default role for each group of which you are a member. Setting current work context
Choose Edit>User Setting.

Click the Session Settings link (The system displays the work contexts associated with the workflow tasks (including target objects) that are assigned to you).

Click OK.
Note: Your administrator can choose to display all work contexts (rather than only those related to your assigned workflow tasks) in this list by setting the TC_wc_show_all preference.
–
We will more post on PLM TUTORIAL–>TEAMCENTER in upcoming days.
Kindly provide your valuable comment on below Comment section and also have you any question kindly ask to a ASK QUESTION in FORUM . Our Team will try to provide the best workaround.
Kindly subscribe your Email-Id at (globalplm.com) and drop any suggestion/queries to (globalplm2@gmail.com).