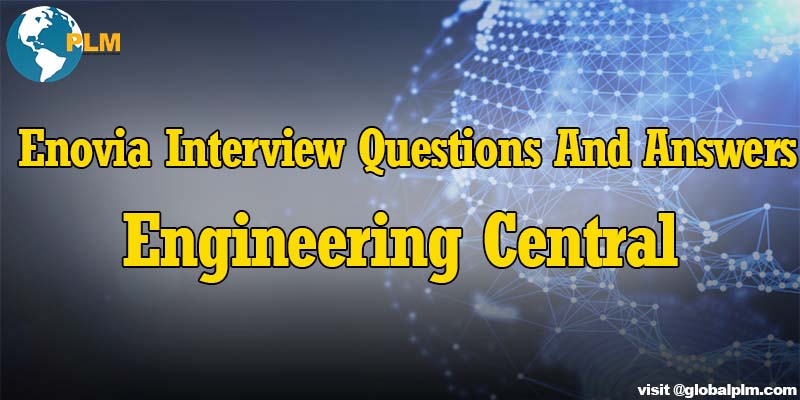 Enovia Interview Questions-Engineering central
1. What is engineering central? What are its uses?
Ans: MatrixOne Engineering Central is an application that facilitates information sharing and management of the Engineering Change process between customers and corporations in a secure Internet environment. The Engineering Central application is part of ENOVIA
MatrixOne's integrated Web-based software. MatrixOne Engineering Central provides users throughout the extended enterprise secure access to critical product lifecycle information. Regardless of the end user's location, within Engineering Central they have a virtual work environment that provides them easy access to product and part information/content, engineering change items and processes. MatrixOne Engineering Central enables a company to manage the following business processes:
Managing Parts, Part Families, and Engineering Bills of Material (EBOMs).

Managing Drawings associated with Parts

Managing changes to Parts, EBOMs, and Drawings with ECRs and ECOs
2. What is a Part Family?
Ans: Companies can group parts into logical families in order to manage the family as a whole. This permits product specifications to be associated with the family rather than with each individual part. A series of parts may perform the same general function. They share the same architecture and may share many components in common. The family cannot be cited in an EBOM as a subcomponent because the family members, though similar, do not provide the same form, fit and function.
Some examples:
Company A makes turbine assemblies for an engine product line. The turbines are very similar in design and share many parts. The family of assemblies is managed as a group.




BOM operations are performed on the whole group at one time.

Company B makes connectors that share architecture, components etc. but it has different form, fit and function.
3. Who is responsible for managing Part Objects?
Ans: Design Engineer:-Design Engineers manage drawing objects. During the part definition process, CAD models, CAD drawings, and drawing prints (known collectively as specifications) are created and revised according to the intent of the engineering change.
4. Who is responsible for EBOM creation?
Ans: Design and Manufacturing Engineers manage creating, copying and comparing Engineering Bill of Materials (EBOMs) for part objects. The EBOM maintains the linkage between the "Latest Released" revisions of its parts.
5: What are ECO and ECR? How are they managed?
6: What is a Part Family? Explain about it?
7: Why is there a need to create Parts? How can that be done?
8: Who is responsible for creating a Part?
9: Who is responsible for cloning a Part? 
10: What is an Alternate Part?
11: What is an ECO?
12: What is an ECR?
13: What is a Reference Document?
14: What is a Spare Part?
15: What is a Substitute Part?
16: What is MEP(Manufacturing Equivalent Part?
17: What is an Application Part?
18: What is a Specification? Explain?
19: What is a Drawing Print?
20: What is EBOM?
21: What are the type of reports available in EBOM?
22: What is EBOM Markup?
23: What are ECO and ECR?
24: What is a Product Line?
25: Explain ECR in detail?
26: How can we associate an ECO with an ECR?
27: What is ECR Obsolete Part?
28: What is ECR Revised Part?
29: What is ECR Revised Specs?
30: Explain ECO in detail?
–
I've tried to provide solutions to the Some questions, For the remaining questions, you may directly contact me via personal message.
We will post more on PLM INTERVIEW QUESTIONS–>Enovia Interview in upcoming days.
Kindly provide your valuable comment on below Comment section and also have you any question kindly ask to an ASK QUESTION in FORUM.Our Team will try to provide the best workaround.
Kindly subscribe your Email-Id at (https://globalplm.com/) and drop any suggestion/queries to (globalplm2@gmail.com).