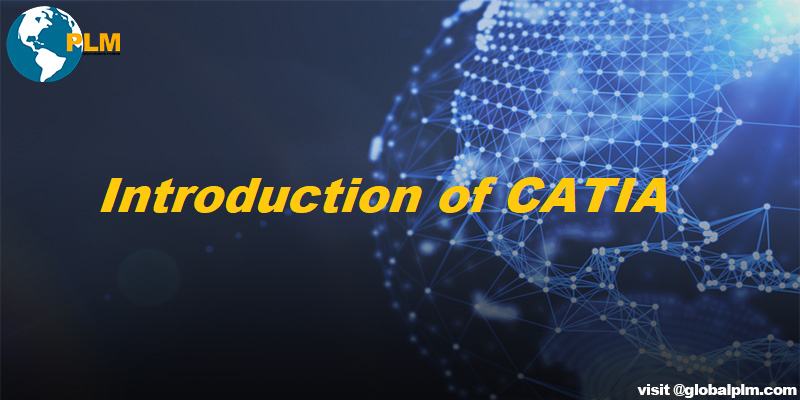 What is CATIA?
Developed by Dassault Systèmes, one of the popular Cad application-CATIA is the world's leading product design software. It's a multinational software company that delivers 3D design, 3D digital mock-up, as well as product lifecycle management (PLM) solutions — also used in original equipment manufacturers (OEMs) and manufacturing organizations in different industries who use Catia to speed up design, analysis, and development process of their products.
CATIA innovates product design and experience by integrating various approaches in product design and development, enabling multiple disciplines to leverage their existing tools throughout the stages of the product development process. Therefore, the software is beneficial for industrial and creative designers, mechanical engineers, and systems architects. CATIA provides a 3D design environment that enables online people and stakeholders to share product designs and collaborate on product modeling.
CATIA started as an in-house development in 1977 by French aircraft manufacturer AVIONS MARCEL DASSAULT, at that time customer of the CADAM software to develop Dassault's Mirage fighter jet. It was later adopted by the aerospace, automotive, shipbuilding, and other industries.
Initially named CATI (conception assistée tridimensionally interactive – French for interactive aided three-dimensional design ), it was renamed CATIA (computer-aided three-dimensional interactive application) in 1981.
List of Companies using CATIA:
| | |
| --- | --- |
| YEAR | Company |
| 1984 | Boeing chose CATIA V2 as its main 3D CAD tool, becoming its largest customer |
| 1988 | CATIA V3 was ported from mainframe computersto Unix |
| 1990 | General Dynamics Electric BoatCorp chose CATIA as its main 3D CAD tool to design the U.S. |
| 1992 | CADAM was purchased from IBM, and the next year CATIA CADAM V4 was published |
| 1996 | ported from one to four Unix operating systems, including IBM AIX, Silicon Graphics IRIX, Sun Microsystems SunOS, and Hewlett-Packard HP-UX |
| 1998 | V5 was released and was an entirely rewritten version of CATIA with support for UNIX, Windows NTand Windows XP |
| 2008 | Dassault Systèmes released CATIA V6 While the server can run on Microsoft |
| 2010 | Dassault Systèmes launched CATIA V6R2011x, the latest release of its PLM2.0 platform, while continuing to support and improve its CATIA V5 software |
| 2011 | Dassault Systèmes launched V6 R2012 |
| 2012 | Dassault Systèmes launched V6 2013x |
---
Overview of CATIA Benefits
---
Product Design And Styling
As an example, the product design software offers advanced surface modeling capabilities to transportation and industrial designers. Because of this, they will be able to analyze and visualize aesthetic and ergonomic shapes to achieve the highest Class-A surface quality.
Creative designers can also access a set of tools that permit them to create and explore conceptual ideas. Using a unique 3D sketching technology, they can import 2D sketches and come up with design ideas. Likewise, virtual experience designers can produce high-quality renderings using global illumination, and reflections and shadows that are physically correct.
Engineering
CATIA allows mechanical engineers to gain insights into the factors that affect the performance and quality of mechanical products through the aid of its 3D modeling tools. What's great about this is that they will be to obtain such insights early in the product development process. They can develop and analyze mechanical products in their operating environments through digital prototyping, analysis, and simulation.
Systems Engineering
To facilitate the creation and validation of complex systems and products, CATIA delivers a development platform to systems engineers and architects, and developers which combines cross-discipline modeling, simulation, verification, and business process support. CATIA provides them with the ability to integrate embedded systems and 3D design processes so they can better simulate complex systems and products. Besides, through requirements engineering, they will be able to ensure compliance with market requirements and regulations, and at the same time reduce the overall cost of a system and product development.
Collaborative 3D Environment
The software made with a collaborative 3D environment that permits users, as well as stakeholders, get involved in the design process. This design environment can as well access through 3D dashboards, and it serves as a single source of truth.
As an example, designers can interact with other departments and collaborate with people from different locations around the world to boost design innovation. In the same manner, systems engineers and architects can work across all disciplines as they design and develop the components and functions of complex systems.
---
Overview of CATIA Features
---
Integrated Multidisciplinary Approach
Product Design and Styling
Advance Surface Modeling
Engineering
Capture Manufacturing Process Intent
Unbreakable Relational Design
Systems Engineering
Cross-Discipline Development Platform
Model Products in the Context Of Their Real-Life Behaviors
Social Design Environment
Global Collaboration
Instinctive 3D Experience
¯
We will more post on CAD TOOLS–>CATIA in upcoming days.
Kindly provide your valuable comment on below Comment section and also have you any question kindly ask to  ASK QUESTION in FORUM. Our Team will try to provide the best workaround.
Kindly subscribe your Email-Id at (https://globalplm.com/) and drop any suggestion/queries to (globalplm2@gmail.com).