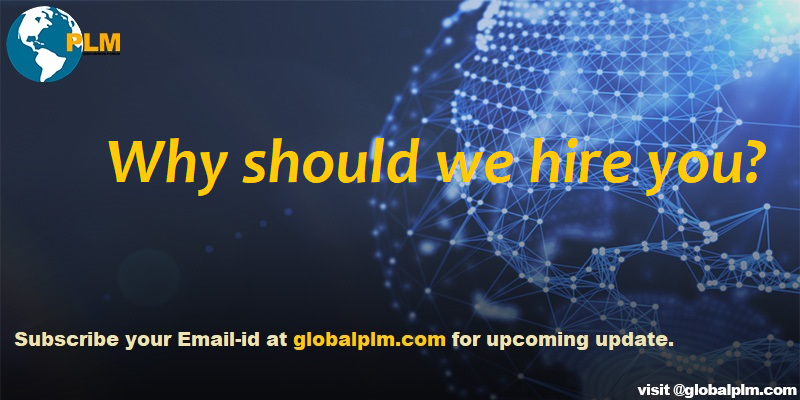 This is another way of asking why you think you are more suitable for this job than other candidates who are applying for the same position. Interviewers have seen your resume, they might have already asked what your strengths are, then why this question again.
This question frequently asked in the end of the interview.
Here the interviewer is giving you a final opportunity to pitch yourself and also to see whether they have made the right decision (yes, they might have already made up their mind by now).
---
https://globalplm.com/tell-me-something-about-yourself/
---
This question is extremely important as you have to put across your point without coming across as a show-off and at the same time showing the Interviewer what sets you apart from other possible candidates. However, it's not easy to answer this question. And you don't want to screw your chances after making it so far.
Some common answers which people give are:
You would know that.

Because I am the best.

You have no other choice.

I am desperate to work for this company.

I would agree to work for way less than what you are offering.
The above answers are a strict No-No. So, if you have any of these answers in mind, its time for a reality check as these answers won't help your case. So, how to prepare for this question.
Skill set: The best way to answer is to emphasize on the requisite technical and soft skills you possess to get the job done. Even for a fresher with zero experience, having the desired skill set will help in securing some brownie point over other candidates.

Work culture: Every company has a work culture which differentiates it from other company. You can do your homework about the company and present your answer in such a way which makes you easily adaptable to your new work place.

Right Fit : Being a right fit for the role means being aligned with the company's work ethics and of course having the technical qualification for the job.

Learning Attitude: Some on the job training is always required whenever you don a new role on your career. If you have the right attitude and willingness to learn, your chances of getting selected are higher. Frame your answer/tell a story which conveys these two attributes of yours to the Interviewers.
As easy as it may sound, but this question puts you in a spot and you would like to be well prepared before you handle this question. Learn how to answer this question, some important tips to remember, do's and dont's  by referring the video below.
For detailed guidance on this topic(

Why Should hire you?

)

on Video representation By

Prakhar Mittal.
---
Four Easy Steps to Get Subscribed
Step1:-Enter your Email address and Hit SUBSCRIBE Button.
Step2:-Please check inbox and open the email with the subject line"Confirm your subscription for Global PLM".
Step3:-Please click "Confirm Follow" and you got the email with the subject" Confirmed subscription to posts on Global PLM".
Step4:-Voila, You are subscribed.Happy Learning
---
---
                                         

HR interview Tips and Trick
https://globalplm.com/tell-me-something-about-yourself/
Kindly provide your valuable comment on the below Comment section and  We will try to provide the best workaround.
For more Awesome HR Interview Tips and Trick, Please subscribe to the YouTube channel(Confessions of Prakhar Mittal) for helping me to make more relevant content.
Kindly subscribe your Email-Id at (https://globalplm.com/) website for new updates and drop any suggestions/queries to (globalplm2@gmail.com).