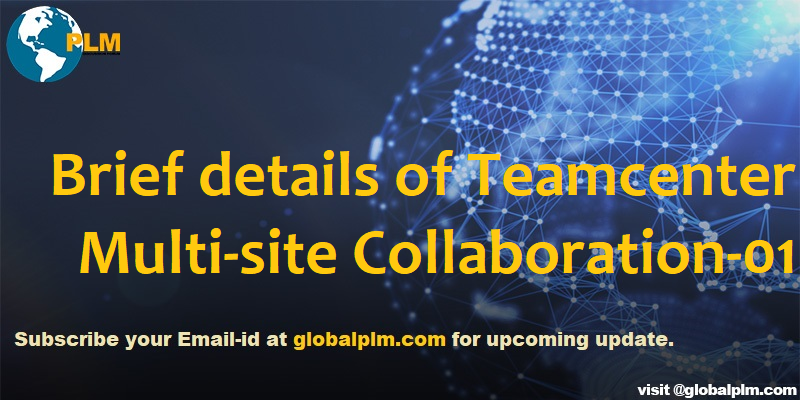 Multisite Introduction
Multisite means collaboration of different sites across the different geographical places is called Multisite.
Provides real-time data sharing across the enterprise
Solution for companies having offices or vendors at the different part of the world
Data is replicated to another site as a copy
At any given point of time, only one site will have ownership of data to maintain data integrity.
Some Key Points
This presentation assumes TC installation basic knowledge like, Create Item, Search item, create structure.
This is only for the Windows platform. Unix platform not covered.
Multi-site installation requires a separate license. (Multisite_Server)
There exists a LAN connection between various sites of Multi-Site collaboration.
Normally major versions are supported for interoperability. If two sites have different versions then functionalities of higher version can not be leveraged
Site Ownership concept is used than User or user group.
Multi-Site Advantages
1. Teamcenter Multi-Site Collaboration solution contribute actual-time data sharing across the entire all Teamcenter site
2. Reducing the time to share the data.

3. Increase productivity.
4. Controlling  Accessibility.
5.Data Integrity.
---
Multi-Site Collaboration Network Topology
Various Networks is using for  Teamcenter Multisite configuration.
Pure peer-to-peer
Pure hierarchical
Combination of peer-to-peer and hierarchical
Hub configuration
---

                                       Multi-Site Key terminology

Site : Single TC Teamcenter database
The site contains all the things like Hardware, Networking  and third-party software to implement the Teamcenter Site.
Every site contains Teamcenter database and Teamcenter users.
Facility : A physical location (Manufacturing plant or design center)
Physical location (for example, manufacturing plant, design center, and so forth) in your enterprise.It  extremely important not to confuse sites and facilities:
         Sites are Teamcenter databases; facilities are buildings/offices. One facility can mixture of multiple sites.
Remote Site: Any site other than current/owning site.

ODS site: Object Directory Service.
ODS site which stores records of every published object in the entire Multi-site collaboration network. Does not store the actual object, but just the record of it is similar to a library card.
IDSM : Integrated Distribution Service Manager.
This is an object transporter. It presents the mechanism used to export an object from the real site, transmit it over the network and import it into the other site.
ODS may be taken into consideration an object locator, the IDSM may be notion of as an object transporter.
Data Replication :
Data replication, over import and export functions, is the basics of Teamcenter Multi-Site Collaboration.
Data integrity :

As an object is replicated to numerous sites, how do you decide which object is the modern day model of an object? This is specifically proper if users are allowed to adjust replicated objects.

Publication Record: When any item is published on ODS, its record is created in database. This has basic info of the item like – Item ID, Owning Site etc.

Export Record : When an Item is exported from any site; this record is created at the owning site of the object. This contains export details of the item.

---
Typical Multi-Site Operations include

 
Publish / Un-publish
Remote Search
Remote Import / Remote Export
Object Import / Export
Synchronization
Remote Check-in / Check-out


---
POM transmit file copy
Install -gen_xmit_file username  password role – This will generate POM transmit files specific to site.
CD %POM_TRANSMIT_DIR% will change to destination directory.
Copy all files generated by above command to this POM transmit directory.
This has to be done for each site in collaboration
---
Publish – Unpublish
Publish operation publishes record on ODS.
This makes items available for operations from other sites.
Publishing an object that visible to other sites.
When you publish an object, a publication record is available in ODS record.
Any workspace item can be published, but best practice is to publish Items only.
Tools → Multi-Site Collaboration → Publish → To default ODS.
Un-Publish will remove item from ODS, as a result making it unavailable for other sites.
---
Popular Teamcenter Article
---

---

For All Teamcenter Article is available in below link
For All Teamcenter Customization Article is available in below link
https://globalplm.com/category/teamcenter-customization/
---
                                         

PLM reference book Gallery
---
Submit Guest Post for the visitor in this website
---
Four Easy Steps to Get Subscribed
Step1:-Enter your Email address and Hit SUBSCRIBE Button.
Step2:-Please check inbox and open the email with the subject line"Confirm your subscription for Global PLM".
Step3:-Please click "Confirm Follow" and you got the email with the subject" Confirmed subscription to posts on Global PLM".
Step4:-Voila, You are subscribed.Happy Learning
---
Kindly provide your valuable comment on the below Comment section and We will try to provide the best workaround.