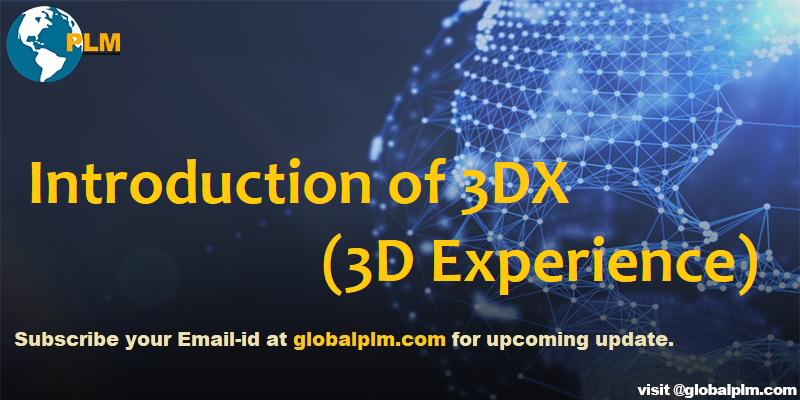 3DEXPERIENCE Services
3DEXPERIENCE is a platform which provides the Digital Engineering including PLM and other areas on a broader scale. This provides central database facility where user can create or update the data from any application and he can access it from any of the other application expecting that application must have been configured. E.g. if user creates data in Enovia he can search the same data in Catia or other application. 3DEXPERIENCE comes with On-premise and On Cloud setup. It comprises of following components like 3DCompass, 3DDashboard, 3DPassport, 3DSwym, 3DSpace, 3DSearch, 3DComment, 3DNotification, 3DOrchestrate.
3DPassport:
This service provides the authentication and Single Sign-on facility for entire 3DX platform applications.
3DDashbard:
This service provides a customizable web page to display the informative data from diverse sources.
3DSearch:
This provides the federated indexing and full-text search facility.
3DSpace:
It provides simplified, powerful management of data and content, including 3DCompass providing unified access to all applications including 3rd party apps, and 6WTags providing an intelligent, structured, and fast tagging systems for refining searches. This is the application where users directly interact with 3DX data and database.
3DSwym:
This is an optional service enabling the cross-discipline collaboration of users anywhere in the extended enterprise. It provides user engagement feasibility.
3DOrchestrate:
This is an optional service but mandatory for a simulation workflow infrastructure on the 3DEXPERIENCE Platform. It facilitates users to distribute and automate the execution of simulation jobs across the available compute resources and to share the simulation results.
3DComment:
This service provides the ability to interact with other 3DEXPERIENCE platform members by liking content and adding comments to any item.
3DNotification:
This service gives 3DEXPERIENCE platform users timely updates about activities going on.  It mainly used to send push notification messages to 3DEXPERIENCE platform users.
3DEXPERIENCE solutions are available with a couple of options like On-Premise whose setup is deployed within the premises and over the cloud which is deployed on the cloud platform.
All the licenses of 3DX are maintained under DSLS (Dassault Systems License Server)
I will explain 3DEXPERIENCE Architecture in next Article.
---
                                           

Popular Enovia Article

 
PLM: Enovia Interview Questions And Answers | Engineering Central
---
 

PLM reference book Gallery
---
Submit Guest Post for the visitor in this website
---
Four Easy Steps to Get Subscribed
Step1:-Enter your Email address and Hit SUBSCRIBE Button.
Step2:-Please check inbox and open the email with the subject line"Confirm your subscription for Global PLM".
Step3:-Please click "Confirm Follow" and you got the email with the subject" Confirmed subscription to posts on Global PLM".
Step4:-Voila, You are subscribed.Happy Learning
---
Kindly provide your valuable comment on the below Comment section and We will try to provide the best workaround.